Nokia has announced the arrival of a new tablet, the Nokia T21 and three new smartphones, which the company says are more eco-friendly, built to last longer and crafted for sustainability.
The newly introduced smartphones include the Nokia X30 5G, the Nokia G60 5G and the Nokia C31. There is also the Nokia T21 tablet, which the company has dubbed a "reliable, family-friendly powerhouse."
The Finland-based company says that the Nokia X30 5G is made from 100% recycled aluminium and 65% recycled plastic. The eco-friendly approach is further extended to the packaging.
"Our standard longevity promises to revamp the Nokia devices portfolio across all ranges," Nokia said in a statement.
Nokia has been under HMD Global since 2016, and the company has made great efforts to introduce Android devices, even as it plays catch up with aggressive manufacturers who have significantly eaten into its traditional markets.
Florian Seiche, CEO, of HMD Global said, "we want people to keep their phones for longer and this can be seen across three areas."
At the same time, HMD Global has introduced Circular, an initiative aimed at encouraging people to recycle their Nokia smartphones and tablets as a way of taking care of the environment.
Circular is a subscription-based mode where smartphone users are encouraged to use their phones for longer through recycling, refurbishing, re-subscribing or turning them in for a charitable cause.
"We have introduced Circular, a truly circular subscription model that rewards people who extend the lifecycle of their phones. We build our devices with more recycled materials and continue to boost our longevity heritage with software and security updates. And we are working hard to live this approach as a company, with our business-wide sustainability pledges that show our commitment to continue to work harder to protect tomorrow."
The company further explained that through this plan," any accidental damage, loss, or theft will be taken care of without a separate monthly cost, and a quick replacement arranged if needed."
In the local market, Nokia faces stiff competition, particularly from Chinese manufacturers who have aggressively marketed cheaper Android products that are equally effective. Last week, the company introduced three feature phones (kabambe) into the local market, in an attempt to serve the population that still needs them as their primary devices or as an alternative to smartphones.
Follow us on Telegram, Twitter, and Facebook, or subscribe to our weekly newsletter to ensure you don't miss out on any future updates. Send tips to info@techtrendske.co.ke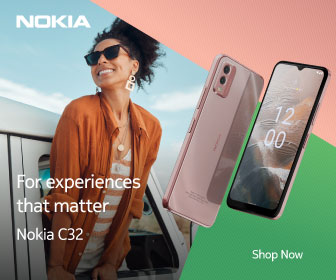 Follow Us